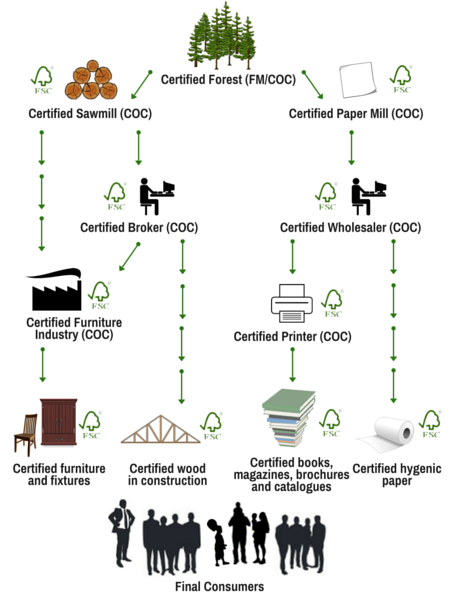 The Forest Stewardship Council (FSC®) is an independent, not for profit, non-government organisation based in Bonn, Germany. The mission of the Forest Stewardship Council is to support environmentally appropriate, socially beneficial, and economically viable management of the world's forests.
FSC® develops, supports and promotes international, national and regional standards in line with its mission; evaluates, accredits and monitors certification bodies which verify the use of FSC® standards; provides training and information; and promotes the use of products that carry the FSC® logo.
FSC® certifications:
FSC® Forest Management certification is awarded to forest owners and managers.
These certificates are awarded to forest owners and managers who show that their forest management activities satisfy the Principles and Criteria laid down by the FSC® international office and more detailed indicators and standards set out by national bodies.
FSC® Chain of Custody certification applies to wood traders and processors:
The latter is for operators involved in the wooden products value chain, i.e. sawmills, furniture stores, importers and retailers. Certification only applies to products made from wood harvested from FSC® Forest Management certified forests. FSC® Chain of Custody certification can be divided into:

individual certification (single operator)
multiple site certification

This category can be further sub-divided in two specific subcategories. Distinction can be drawn between group certification (many small enterprises can "unite" to request certification following SME-friendly procedures) and multi-site certification (one single operator operating in several locations need only request a single certificate instead of certification for each site).
At the beginning of 2015, FSC® counts 186.383 million hectares certified, 28.785 CoC certificates and 1.303 FM/CoC certificates.